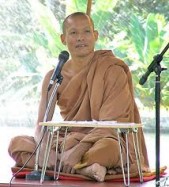 ขอแจ้งกิจกรรมธรรมต่างๆ ในเดือน สิงหาคม และ กันยายน รายละเอียดอยู่ด้านล่าง
Dharma events coming soon in August and September – Details below
1] บูชาพระคุณแม่ วันแม่ จ.สุพรรณบุรี 9-13 สิงหาคม
2] ปฏิบัติธรรมวันกตัญญู(วันแม่) วัดอ้อน้อย 12 สิงหาคม
3] "วิปัสสนาภาวนา ในแนวทางเวทนานุปัสสนาสติปัฏฐาน" โดย หลวงพ่อธี วิจิตตธัมโม 11-20 สิงหาคม ณ ศาลาธรรม
4] วิปัสสนาภาวนา พระอาจารย์ วิโมกข์ เมธิโน (วัดปิปผลิวนาราม อ.บ้านค่าย จ.ระยอง) 21 สิงหาคม ณ ศาลาธรรม
5] วิปัสสนาภาวนา การพัฒนาไปสู่จิต แห่งการรู้แจ้ง ลามะ สังเกย์ เน็มปะ ริมโปเช และคณะ จาก ประเทศเนปาล 12-18 กันยายน Meditation and practices to enlightened mind by His Eminence 10th Sangye Nyenpa Rinpoche www.sangyenyenpa.com and his group from Nepal 12-18 September
1] บูชาพระคุณแม่ วันแม่ ณ วัดเขาถ้ำหมี ต.หนองมะค่าโมง อ.ด่านช้าง จ.สุพรรณบุรี 9-13 สิงหาคม เชิญร่วมบวชเนกขัมมะ ปฏิบัติกรรมฐาน และ รับฟังธรรม ติดต่อ พรหมชัย 080-0788077
Mother's day, to worship mother's kindness with Dharma practice, at Wat KhaoThamMee, Suphanburi Province 9-13 August, invitation to ordination, meditation and listen to Dharma talks (in Thai only) contact 080-0788077
2] ปฏิบัติธรรมวันกตัญญู(วันแม่) วัดอ้อน้อย สวดพระอภิธรรม ๗ คัมภีร์ แปล พิธีมาติกา – บังสุกุลพิธีจุดเทียนชัยถวายพระพรแด่สมเด็จพระนางเจ้าฯ พระบรมราชินีนาถ และ ปฏิบัติธรรมเจริญสติ โดยหลวงปู่พุทธะอิสระ 12 สิงหาคม ติดต่อ 034-204-738,823,815 www.onoi.org
Worship mother's kindness with Dharma practice at Wat Onoi. Dharma chant, candle lighting to celebrate the HM. Queen's birthday by Luang Poo Buddha Issara (in Thai only) contact 034-204-738,823,815 www.onoi.org
3] ฝึกอบรมปฏิบัติ "วิปัสสนาภาวนา ในแนวทางเวทนานุปัสสนาสติปัฏฐาน" โดย หลวงพ่อธี วิจิตตธัมโม และ สามเณรี วิมาลา ปฎิเต 11-20 สิงหาคม ณ ศาลาธรรม 21 หมู่ 1 ตำบล บ้านปทุม อำเภอสามโคก จ.ปทุมธานี (ไม่ไกลจาก ม.ธรรมศาสตร์ รังสิต) ปทุมธานี ติดต่อ ดร. ใจสคราญ หิรัญพฤกษ์ 081-841-7855 www.saladhamma.org
Vipassana course (in Thai only) by Luang Por Tee Vijitthammo at Saladhamma 11-20 August contact 081-841-7855
4] วิปัสสนาภาวนา พระอาจารย์ วิโมกข์ เมธิโน (วัดปิปผลิวนาราม อ.บ้านค่าย จ.ระยอง) 21 สิงหาคม ณ ศาลาธรรม 21 หมู่ 1 ตำบล บ้านปทุม อำเภอสามโคก จ.ปทุมธานี (ไม่ไกลจาก ม.ธรรมศาสตร์ รังสิต) ติดต่อ ดร. ใจสคราญ หิรัญพฤกษ์ 081-841-7855 www.saladhamma.org
Vipassana course (in Thai only) by Phra Ajaran Vimoke Methino at Saladhamma 21 August contact 081-841-7855
5] วิปัสสนาภาวนา การพัฒนาไปสู่จิต แห่งการรู้แจ้ง ลามะ สังเกย์ เน็มปะ ริมโปเช และคณะ จาก ประเทศเนปาล 12-18 กันยายน ณ ศาลาธรรม 21 หมู่ 1 ตำบล บ้านปทุม อำเภอสามโคก จ.ปทุมธานี (ไม่ไกลจาก ม.ธรรมศาสตร์ รังสิต) www.saladhamma.org
Meditation and practices to enlightened mind by His Eminence 10th Sangye Nyenpa Rinpoche www.sangyenyenpa.com and his group from Nepal 12-18 September (Talk will be in English with Thai translation) at Saladhamma (directions below) contact 081-841-7855 www.saladhamma.org
[1]
บูชาพระคุณแม่ วันแม่
ณ วัดเขาถ้ำหมี ต.หนองมะค่าโมง อ.ด่านช้าง จ.สุพรรณบุรี
*****
ขอเชิญพุทธศาสนิกชน ผู้สนใจปฏิบัติ ร่วมบวชเนกขัมมะ ปฏิบัติกรรมฐาน วันที่ 9-13 สิงหาคม 2554 ณ วัดเขาถ้ำหมี จ.สุพรรณบุรี น้อมถวายเป็นพระราชกุศลแด่ สมเด็จพระนางเจ้าพระบรมราชินีนาถ วันเฉลิมพระชนมพรรษา 79 พรรษา
วันอังคารที่ 9 สิงหาคม พ.ศ. 2554 รับฟังธรรม
เวลา 20.00 น. พระครูวิสิทธิ์สุวรรณคุณ หลวงพ่อเสน่ห์ อภินันโท
วัดพุน้ำร้อน อ.ด่านช้าง จ.สุพรรณบุรี
วันพุธที่ 10 สิงหาคม พ.ศ. 2554 รับฟังธรรม
เวลา 13.30 น. พระครูเกษมวรกิจ หลวงพ่อวิชัย เขมิโย
วัดถ้ำผาจม อ.แม่สาย จ.เชียงราย
เวลา 20.00 น. หลวงพ่อสมควร จักกธัมโม
สำนักภาวนาธรรมเมตตาธุดงค์สถาน อ.เมือง จ.สกลนคร
วันพฤหัสบดีที่ 11 สิงหาคม พ.ศ. 2554 รับฟังธรรม
เวลา 13.30 น. พระครูนิมิตวิริยานุกูล หลวงพ่อสุบิน อุตตโม
วัดป่าบ้านหนองแวง อ.กันทรารมย์ จ.ศรีษะเกษ
เวลา 20.00 น. พระอุดมประชาทร หลวงพ่ออลงกต ติกขปัญโญ
วัดพระบาทน้ำพุ อ.เมือง จ.ลพบุรี
วันศุกร์ที่ 12 สิงหาคม พ.ศ. 2554 รับฟังธรรม
เวลา 13.30 น. พระครูสุนทรธรรมโฆษิต หลวงเตี่ยสุรเสียง ปัญญาวชิโร
วัดป่าเลิงจาน อ.เมือง จ.มหาสารคาม
เวลา 20.00 น. พระอาจารย์เกษมสุข เขมสุโข
วัดประดู่ธรรมาธิปัตย์ บางซื่อ กรุงเทพมหานคร
สอบถามที่
หลวงพ่อถนัดกิจ ถิรจิตโต เจ้าอาวาส ณ วัดเขาถ้ำหมี 082-2453366
คุณพรหมชัย เกษมวรกิจ พิธีกร ณ คนเดิม 080-0788077
ศีลธรรมนำสุข พ้นทุกข์นิพพานัง
[2]
ปฏิบัติธรรมวันกตัญญู(วันแม่) วัดอ้อน้อย ศาลาปฏิบัติธรรม วัดอ้อน้อย www.onoi.org
ถ.มาลัยแมน ต.ห้วยขวาง
อ.กำแพงแสน จ.นครปฐม 73140
วันศุกร์ที่ 12 สิงหาคม Friday 12th August
08.45 – 11.00 น. สวดพระอภิธรรม ๗ คัมภีร์แปล พิธีมาติกา – บังสุกุล
Dharma chant and ceremony
19.19 น. พิธีจุดเทียนชัยถวายพระพรแด่สมเด็จพระนางเจ้าฯ พระบรมราชินีนาถ
Candle lighting ceremony to celebrate HM. The Queen's birthday
[3],[4],[5]
สำหรับชีวประวัตรของ ลามะ สังเกย์ เน็มปะ ริมโปเชให้เข้าไปดูได้ที่ www.sangyenyenpa.com
About his Eminence Sangye Nyenpa:
According to His Holiness 16th Gyalwang Karmapa, it is said that His Eminence 10th Sangye Nyempa Rimpoche, whose source of emanation is the Buddha Maitreya, who took many births as different Mahasiddhas of India, such as Yeshe Nyingpo, Pandita Mirtijana etc. and worked for the benefit of the Buddha Dharma and many sentient beings. For more information please visit www.sangyenyenpa.com
แผนที่ศาลาธรรม
21 หมู่ 1 ตำบล บ้านปทุม
อำเภอสามโคก จ.ปทุมธานี (ไม่ไกลจาก ม.ธรรมศาสตร์ รังสิต)
ติดต่อ ดร. ใจสคราญ หิรัญพฤกษ์ 081-841-7855 www.saladhamma.org
http://www.saladhamma.org/images/map.jpg
Contact: Dr. Chaiskran 081-841-7855
The Dharma talk will be conducted at Sala-dhamma house which is in Pathum Thani province, past Thammasart University (rungsit campus).
To get there, please take the following directions:
Take expressway towards Chang wattana side, do not get down at Chang wattana but go straight further and pay the toll again, go on for some distance until you see "Chiang-rak" exit. At the "Chiang-rak" exit follow the left-curve. Immediately right after the left curve, keep right and change to right lane to get on the bridge/fly-over. Go very slow when coming down from the bridge and keep left. When you see King's picture in the middle of the road then immediately take left turn. Go till end of the road, at end of the road it's a 3-way intersection, turn right until you see a sign "Saladhamma" on the left side, turn into that small soi with the sign, just before the entrance of a housing project. I don't remember if the sign has English language or it would be ศาลาธรรม in Thai.